Our energy self-sufficient and connected e∙VAV damper, launched at the end of 2020, is a real asset for air quality management in buildings.
At every step of the building life cycle, the e∙VAV provides solutions :
Flexibility to design your ventilation ductwork
Ease of installation
Simplicity at commissioning
Energy savings during operation
Its DNA as a connected object allows it to contribute to the monitoring of indoor air quality, to be easily integrated into a smart building environment and to participate in the development of your buildings' operating data.
In order to optimize the exploitation of the e∙VAV damper and the monitoring of the associated data, Hxperience has included it into its SMATI platform. All parameters and data are accessible through a dedicated widget e∙VAV.
Only multifunctional platform on the market, SMATI is able to address CSR issues like the use of presence indications to activate/deactivate e·vav and the ventilation and thus reduce energy consumption, space management and optimization, or maintenance of critical equipment.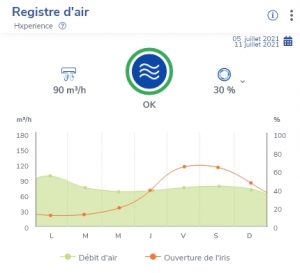 Thanks to SMATI the operator manage several themes on the same platform, he can cross-reference data in order to act more efficiently.
Thanks to SMATI e·VAV is becoming a real performance tool for facility managers, real estate companies, large property owners, or authorities.
This partnership between F2A and Hxperience will make it even more accessible to use the e∙VAV.