TECHNICAL DATA SHEET REGISTER
TECHNICAL DATA SHEET REGISTER VERSION KIT
[litebox id="boutonVoirVideo" href="#modalVideo" anch="PRESENTATION DU REGISTRE VERSION KIT" ]
Advantages
| | |
| --- | --- |
| Certified | According to EN 12101-8 (CE marking), EN 1366-10 |
| Structure | Single-compartment |
| Tests | According to EN 1366-10 (600°C/2h) |
| Upstream/downstream airtightness | Class 3 (EN 1751) |
| Large dimensions | 2000 x 1995 mm |
| Motorized | With Bernard actuator AQ10 (100 Nm), Belimo BE230 or BE24 |
Dimensions
| | |
| --- | --- |
| Min | 200 x 180 mm |
| Max | 2000 x 1995 mm |
| L with a pitch of | 100 mm |
| H with a pitch of | 165 mm |
| Blades' height | 165 mm |
| Frame's width | 300 mm or 185 mm |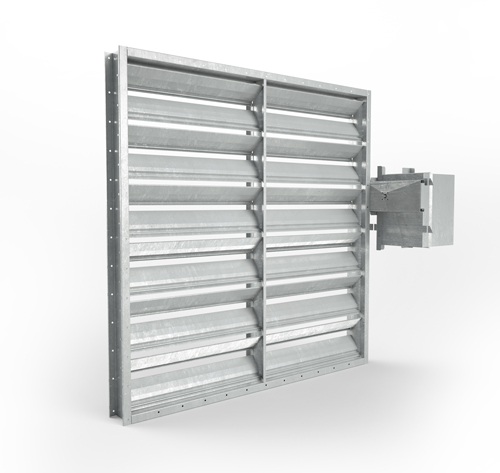 Characteristics
Smoke exhaust dampers prevent the spread of smoke and combustion products from a fire zone, but they are also used to hold toxic extinguishing gas from the critical area and control excessive air exhaust in pressurization systems. Smoke control systems are designed to fulfill the following basic functions:
extraction of smoke from a single fire compartment to the outside of the building
extraction of smoke from fire compartments of a building, using a smoke and heat extraction system
The smoke exhaust damper MSD-F has been tested and certified according to EN 12101-8 (CE marking). It complies with EN 13501-4 classification standard and 1366-10 test standard. It meets European requirements for single-compartment applications. It is equipped with an electric actuator AQ10, a Belimo BE230 or BE24 and a thermal jacket.
Certification number: 1812-CPR-1180_17-0 (Effectis laboratory)
Certificate of compliance (Qatar): EFR-1702-0038_17-0
Construction :
Frame and blades: galvanised or stainless steel
Blades' gasket: silicone and graphite
Lateral gasket: graphite
Blades actuation via linkage : parallel or opposite
Motorized drive system with actuator 100 Nm
Performances :
Upstream/downstream airtightness: class 3 according to EN 1751
Acceptable pressure: -500 Pa to +500 Pa
Airtightness to fire : 600°C/2h certified
Available installation configurations: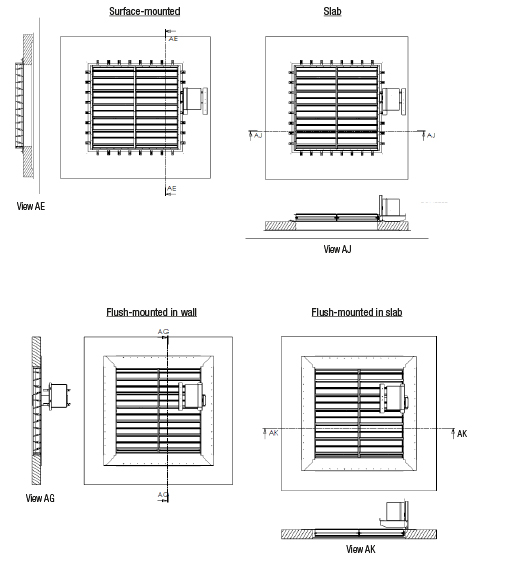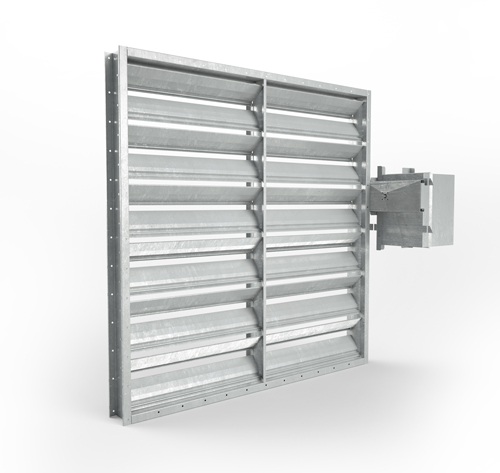 Technical datasheet of MSD-F damper