Beaux-Arts Museum
| | |
| --- | --- |
| CITY | Dijon |
| COUNTRY | France |
| DATE OF THE SITE | 2012 |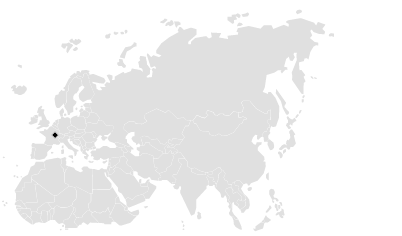 The city of Dijon decided to renovate its fine arts museum so as to present the exhibitions in a renovated and enhanced monument. In the long term this operation will allow a better welcoming of the public in a larger, friendlier and more comfortable museum.
The museum remains open for the two work phases from 2008 to 2019.
This project, whose cost has been estimated at 60 million Euros will extend the premises' surface (13 000 m² instead of 9 000m²) and therefore extend the space dedicated to the art collections (5 200 m² instead of 3 500m²).
A museum must offer real acoustic comfort to its visitors, as it is a place of relaxation and escape, which is why we call this kind of application: "acoustically sensitive building".
The engineering office in charge of the renovation project has set very demanding noise levels in the exhibition halls: below 35 dB (A).
The HVAC system is operated by 13 air handling units and one chiller. Without a treatment, the acoustic pressure level LnAT in the exhibition halls would reach 65 dB(A), i.e. the equivalent of a loud classroom.
Requirements
The main difficulty in renovation projects is the dimensions constraint: new equipments must be installed and incorporated in the existing structure.
In addition to the dimensions problematic, the volume of the showrooms (around 1 600m3) imposes an efficient ventilation and therefore a large number of diffusers.
These outlet louvres are the cause of important noises and make the acoustic treatment extremely intricate.
The dimensions constraints coupled with the acoustic requirements make the Dijon museum one of the most complicated cases to deal with.
F2A solution
A close work with the installer enabled F2A to overcome those dimension constraints by moving the construction site to the attic.

The thorough analysis of the premises' drawings and aeraulic network enabled our engineers to optimize the acoustic solutions, so as to reach this project's dimensional and acoustic objectives. Indeed, an acoustic treatment in series was set up in Dijon museum:

Rectangular primary sound attenuators : most of the acoustical attenuations
Circular secondary silencers with central attenuation : additional treatment
So as to facilitate the installation of the equipments in the attic, F2A chose acoustic splitters 30% lighter than standard models.

In order to meet the objectives set by the acoustic engineering office, the following solutions were adopted :
30
SONIE RBS+ silencers composed of BS + acoustic splitters and 15 Optimum circular silencers to treat the network's antennas.
Associated products
Circular silencers OPTIMUM 100 XL
OPTIMUM 100 XL

Rectangular silencers
Rectangular silencers