Advantages
| | |
| --- | --- |
| Installation | Easier (lighter construction) |
| Performances | Tested by an external laboratoy (EN 7235) |
| Frame | Aerodynamic - Optimized pressure loss |
| Anti-erosion protection | With perforated metal sheet |
| Fire class | A2-S1-D0 |
Dimensions
| | |
| --- | --- |
| Dimensions | Custom-made |
| Large dimensions | In several elements |
| Thicknesses | 50 – 100 – 150 – 200 – 300 mm |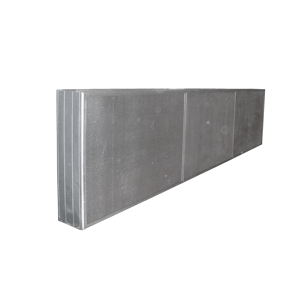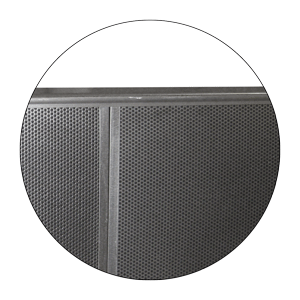 Characteristics
SONIE BP+ acoustic splitters are designed to be installed in aeraulic networks and enable to attenuate the noise generated by the ventilation system.
The anti-erosion protection with perforated metal sheet enables to stiffen the equipment and to withstand to high mechanical stresses ( high air velocities, high air pressure, …). SONIE BP+ acoustic splitters are suitable for industrial applications.
The lighter construction of this baffle compared to a standard splitter enables an easier installation on site and gives also more opportunity to optimize dimensions to reduce noise level.
Construction:
Aerodynamic frame: galvanized or stainless steel
Sound proofing: rot-proof and water-repellent mineral wool
Anti-erosion protection: glass silk and perforated metal sheet
Fire class: A2-S1-D0
In option:
V-shape inlet and outlet profiles
Slide locking for installation in concrete duct
F2A also offers the full rectangular silencer or sound attenuator with SONIE BP+ splitters mounted in a casing: SONIE R-BP+