TECHNICAL DATA SHEET REGISTER
TECHNICAL DATA SHEET REGISTER VERSION KIT
[litebox id="boutonVoirVideo" href="#modalVideo" anch="PRESENTATION DU REGISTRE VERSION KIT" ]
Advantages
| | |
| --- | --- |
| Airtightness | Class C (EN 15727) |
| Energy effciency | Reduce energy consumption |
| Fast installation | 50% faster than a standard sleeve |
| Easy and fast to install | Ready to use, mounted and integrated clamps |
Dimensions
| | |
| --- | --- |
| Min | Ø125 mm |
| Max | Ø400 mm |
| Height | 200 mm |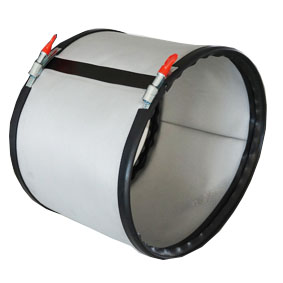 Features
The airtightness of ventilation systems has become a major building issue in recent years. In effect, the airtightness problem inevitably leads to loss of efficiency, overconsumption, poor energy performance and therefore additional costs and sometimes degraded indoor air quality.
CETIAT, a French specialized laboratory has clearly identified in tis practical guide, "Airtightness of the aeraulic networks", that the main risks of leakage of networks were at the junctions, in particular the flexible connections (sleeves).
The airtight circular flexible sleeve MCE has been designed to connect ventilation equipement to rectangular ductworks. It prevents the transmission of vibrations and noises along the ventilation ductwork.
The MCE flexible circular sleeve includes an airtight gasket at both ends which significantly reduces air leakage and energy loss.
Construction :
Sleeve's body : fiberglass fabric coated with silicone or PVC
Integrated clamps in the sleeve for an easier installation
Assembled by sewing and soldering
EPDM gaskets at both ends
Connection : smooth edges
Performance :
Fire class : M0 or M1
Acceptable pressure : 2 000 Pa
Airtightness : class C
Operating temperature : -30°C to +90°C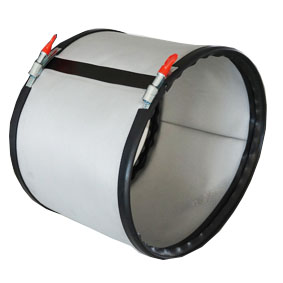 Technical datasheet of MCE sleeve