Larnaka Airport
| | |
| --- | --- |
| CITY | Larnaka |
| COUNTRY | Cyprus |
| DATE OF THE SITE | 2009 |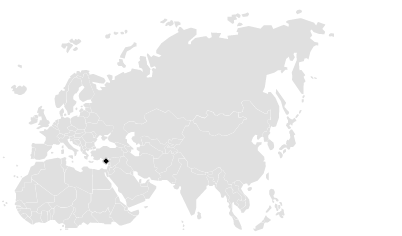 Larnaka is the main airport of Cyprus island. It covers a surface of 100 000 m² on two levels, welcomes nearly 9 million travelers per year and was reinforced to be anti seismic. In accordance with public rooms security regulations, the airport was supplied with 9 backup generators providing a power of 200 kW to 1 120 kW and manufactured by Cummins. In order to meet the acoustic constraints in public rooms, F2A performed an acoustic study taking in to account.
Constraints
Acoustic constraint: when a generator is turned on, it generates noise emergences that exceed the levels set by the noise on the workplace regulation and neighborhood regulation. Acoustic measures must then be taken.
Noise level below 80dB at 10 meters downstream and upstream.
Generators' premises of large dimensions, needing a large air intake and air exhaust section.
F2A solution
200-mm thick splitters
Adapted for velocities up to 14 m/s
Anti-erosion glass silk on both sides
5-meter high splitters
Associated products