The Alto Tower, serial technical challenges in the heart of the business district of La Défense !
The Alto Tower project is part of the 4 Saisons district renovation.
The glass scale of its surface will consist of 17 500 m2 of double insulating skin.
Launched in September 2016, the building site of the 51,000 m² tower with 38 floors and 2 large terraces (including a VIP one) offers today an extraordinary flared shape, from 700 m² at the base to 1,900 m² at the top .
Being "perfect" in terms of environmental performance is Alto's successful bet.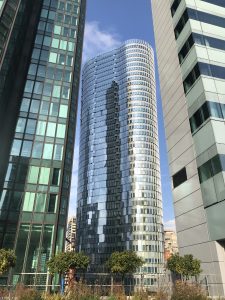 By aiming the highest levels of certification, HQE® Exceptionnel, Wellcore shell silver level and BREEAM®, level OUTSTANDING Alto will be one of the most energy efficient with its insulating facade and huge work in HVAC.
The construction site is an example, as architects and builders had to adjust the building design to the structures already there on one hand and the low noise levels required  by the project management team on the other hand.
With 2 goals :
Reduce the external noise level generated by the 76 Air Handling Units, chillers and exhaust fans, thereby protect the First Tower (La Défense's icon and one of the most emblematic buildings) in close proximity.
Optimize the comfort of future occupants and visitors to the tower, especially the coming Skylounge space (VIP).
F2A solutions:
All the expertise of the F2A acoustic research department has very accurately certified calculation notes of the silencers to be installed on the Air Handling Units floors of offices, annexes, future sports hall as well as the parking fans.
For an optimized solution to reduce the noise inherent in an Air Handling Units, our acoustic engineers have specified acoustic splitters and silencers BS + and BD and provided technical assistance throughout the study and execution phase.
Finally, an acoustic 3D mapping was carried out for the verification of the equipment impact located on technical terraces of the VIP outdoor space thus validating the noise levels required by the project management team Cap Horn.